Supplementing Your Income
Whether you are a student, a stay at home mom, currently unemployed, or just someone who's looking for ways to earn some extra cash, there are lots of options available for people who are willing to be creative, work hard, and exchange a little time for money.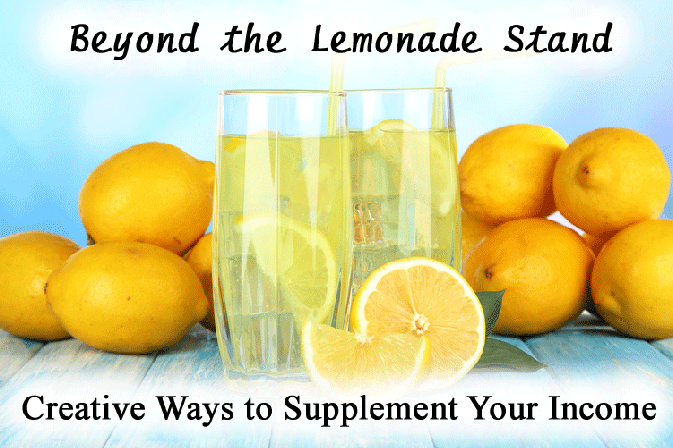 This page contains a lot of different ideas for things you can do to earn some money. Some of them you can do from the comfort of your home, others may require you to step a little outside your comfort zone. Some of these ideas are no-brainers while others require more ingenuity or creativity. Some have absolutely no start up costs while other may require a bit of capital to begin with.
Whatever you have in the way of interests, skills, or talents, there are things you can do to supplement your income and earn a little cash. Here are some ideas to help you get started:
PROVIDE A SERVICE
* Do Odd Jobs for People. There are many people who are willing to pay to get some help with various tasks. Whether it's grocery shopping, paining jobs, yard work, or whatever, you can earn some money doing odd jobs for people. Craigslist is one place to visit to get started. There is also Do My Stuff, Zaarly, Task Rabbit,and Agent Anything. Please note that some of these sites are specific to select cities only.
* Become a Virtual Assistant. Use a site like oDesk or Zirtual to get started as a virtual assistant.
* Babysit Children. Let your friends and neighbors know that you are interested in babysitting for cash. Some churches and small groups are also open to having help with babysitting during small group functions. Consider advertising in your area or use a company like Care to find clients.
* Day Care. If you're a stay at home mom, childcare can be a great way to earn a little extra cash. You're already home with your own kids, so what's one or two more?
* Mom for Hire. Hire my Mom is a site that makes it possible for stay at home mom's to earn money from home. Puts you in contact with potential clients, with a wide variety of tasks you can get paid to do.
* Clean houses or hire out to do yard work. Let your friends and neighbors know that you're interested in helping them with spring cleaning, or any kind of housework. Consider going door-to-door with a business card to advertise in your area, or use a site like Home Joy to find clients.
* Cook for Cash. Make and sell meals (tamales, casseroles, soups, etc) or desserts (pies, cookies, cakes, etc). Use sites like Kitchit or Kitchen Surfing to get started.
* Pet Sitter. Animal lovers can make good money taking care of peoples' pets. Use a site like Care or Sitter City to find clients.
* Dog Sitting. If you're partial to dogs, there are plenty of jobs for people who are interested in walking dogs or dog sitting. Using a site like Dogvacay or Rover can help you find clients.
* Secret Shop. If you like shopping, here's a great way to make a little money by helping different chain stores with auditing. Click Here for more information.
* Collect Data. A data collector is basically someone who gathers pricing information from different stores in their area. Click Here for more information.
* Data Entry. If you're a good at typing (at least 60 words per minute) this may be a good job for you, basically typing up hand-written transcripts. Unfortunately, data entry jobs are very difficult to get, since companies like to hang on to the same people and rarely hire new data entry people. The pay also starts out pretty low, but has the potential to increase over time. Good data entry sites include: Dion Data Solutions, Virtual Bee, Scribie, .Capital Typing, Working Solutions, QuickTate, Appen Butler Hill, and Click Worker.
* Virtual Translate. If you are fluent in multiple languages (including reading and writing), you might consider working as a translator. Use sites like Ubiqus Translation, Accurapid, Academic Word, Wintranslation, We-Translate, African Translate, Translators Cafe, Appen Butler Hill, and Pacific Interpreters to get started.
* Clean Foreclosed Homes. When a bank forecloses on a house they are often willing to pay a good sum of money to anyone willing to clean it up for them. Foreclosure houses are often very messy, but if you don't mind getting your hands dirty you can make some decent money doing the clean up. If you really want get into this field, consider purchasing this start-up course as a good first step.
* Wedding Planner. If you love weddings and organization (and can deal with the pressure from the brides) this could be a fun way to earn a little cash.
* Wedding Photography. If you're good with the camera you might consider becoming a wedding photographer. Hiring a professional photographer can be very expensive, and a lot of people would be happy for a more affordable deal, especially if they can own the rights to the pictures at the end of it. Here's a tip: Don't charge them for each individual picture, or even for the number of photos taken. Charge instead for your time (an hourly rate) and your costs (transport, printing, etc).
* Handy-Man. If you're handy with tools and good at minor repair work, there are a lot of little-old-ladies who are willing to pay something to someone who can do little fix-up jobs around the home.
* Massage Therapy. If you've got strong hands and a calm disposition, you can make good money as a massage therapist.
* Senior Care. More and more senior citizens are wanting to avoid nursing homes and would much rather have someone come and help them out in their own home. Relatives may also be willing to pay you to spend a few hours with their elderly parents just for the peace of mind that they can go out without having to worry about mom or dad being home alone.
* Maid Service. If you're good with the mop and broom you might consider hiring out as a maid. There are a lot of people who will pay for just basic house cleaning tasks.
SEASONAL SERVICES
* Lawn Care. Get work mowing lawns, doing landscaping, or just simple weeding. If you do a good job you can easily get some "returning customers" since all summer long these tasks will need to be done every few weeks.
* Spring Cleaning. Cleaning out rain gutters, washing windows, and helping out with other spring cleaning projects can be a good way to earn some cash.
* Motor Oil Changes. If you know how to change the oil in a vehicle you could hire out to change oil for people. Spring and Fall are great times to advertise this, since a lot of people think about getting their vehicle serviced before or after winter. Many people are also willing to pay for convenience, so if you offer to go to their home and change the oil right there on their property, they won't have to go anywhere to get it done, and they'll be willing to pay for that convenience (especially if, with that convenience, you're price is cheaper than the auto store).
* Hang Christmas Lights. There are a lot of people who want their house nicely decorated for Christmas but who do not like the task of hanging the lights themselves. Consider going door to door with a business card and advertise the fact that you're willing to hire out to hang Christmas lights.
* Be a Christmas Elf. In addition to hanging Christmas lights, you could also advertise that you're willing to help with the "holiday hassle" by doing any seasonal odd jobs . . . hanging lights, setting up the Christmas tree, mailing Christmas cards, wrapping gifts, shoveling snow, or babysitting kids so mom can do her Christmas shopping. Christmas is a very busy time for people so you can find a lot of ways to make a little extra money during this season.
SELL
* Have a Yard Sale. Gather together all the items in your home that you don't need and set up your own yard sale. Post signs or hang out flags to draw customers. For even better results, coordinate with others in your neighborhood for a neighborhood wide yard sale – more people will think it worth while to come to your house if they know there are several different yard sales on the same block.
* Sell Your "Junk". One man's garbage is another man's treasure. Just look around your home and gather together items you don't need anymore. Clean out the clutter in your home and make a little money at the same time. You can use sites like eBay, Amazon, Craigslist to perform online sales.
* Thread Up. This is a site that will pay anything from $2-$25 for name brand items. Selling clothes through this company can be a lot easier than trying do do a yard sale or selling on ebay, just pack up a box and send it to them (you don't even pay for shipping).
* Sell Books. You can often purchase good books for $1 or less at garage sales or thrift stores and then resell them again online. There's a risk of losing out a little at the beginning as you learn to master the art of what sells and what doesn't, but if you're willing to stick with it you could make some decent money at it.
* Half.com. Sell books, movies, music, and games. No listing charges
* BookScouter. Another way to sell books is to download the bookscouter app. Go visit garage sales or thrift stores, scan the book barcodes or enter the ISBN# and the app will show you the price that a lot of buy-back sites are willing to pay for that particular book. If you can buy books for 50 cents and resell them for $3.00, you can make some good money doing this.
* Sell Photography. If you've got a digital camera and a good eye for photography you might consider selling photos online.
* Sell Products. You can run your own business from home by offering some sort of service or program. Some people go with a sales/party type business such as doing parties with jewelry, Pampered Chef, Tupperware, lingerie, etc. Other services you could offer would include childcare, cooking, cleaning houses, sewing, word processing, editing and more. The key is to offer a product you believe in or a service you can do well.

* Drop Ship. If you don't make your own things to sell, and you don't want a house full of inventory, you might consider selling things by drop ship. Click Here for more information.
* Sell Homemade Goods. If you are the crafty sort, you can make and sell products online or at markets. Try and come up with creative products that people will be impressed with: crafts, clothes, home decorations and greeting cards are just a few ideas. Consider using a site like Etsy or Not on the High Street to sell things you make. Or sell on Amazon or Ebay.
* Garage Sale Runs. Go garage sailing and pick up great deals on used items. Resell online at Ebay or Craigslist. Be careful to buy only good quality items, and things that people would actually want. Selling items in sets can be an added bonus, it is less work over all and easier to sell off sets than it is to sell of individual items (especially when it comes to used clothing).
* Host an Event. The best way to make money from an event is to have free admission, good advertisement, and reasonably priced items for sale. Whether your selling directly for a company or just setting up your own booth, it can be a great way to do marketing, especially if you can keep your overhead costs low.
* Become a Merchandise Rep. There are a lot of companies that pay in cash or discounts for people to promote their products. A few of these include: Usborne (books), Avon (cosmetics), Pampered Chef (kitchen articles), Young Living (essential oils), and Thirty-One Gifts (handbags).
* Sell Things at Other People's Events. If you're interested in direct sales, consider setting up a booth at a festival, fair, or other hosted event. You normally have to pay a small fee for the booth, but if you've got merchandise that is reasonably priced and are sort of "hot items" for people you can make back that money and a little profit too.
CREATE
* Sell Digital Art. If you're good at making icons, illustrations, or photoshop creations, you can try selling your work online at Graphic River. If you're really good you might try to get in as a seller on Arsenal. You can also sell this kind of art on the same sites that sell photography.
* Design Logos. You can make some money designing logos for small businesses or blogs. Offer your services on Fiverr.
* Design Posters or T-Shirts. There are sites like Society6 and ImageKind that will only print your designed work when customers order it, which means you don't lose a lot of capital from creating a bunch of posters or T-shirts and then having to wait for the to sell before you make your money back. There's not usually a lot of profit in this, but if you're a designer it could be a hobby that gives back a little something. If you're really good at designing posters, you might consider getting your posters featured on OMG Posters or Laughing Squid.
TEACH
* Private Lessons and Classes. If you have a skill of some sort, you can offer classes or private lessons from home. For example, you could teach classes in music, exercise, sewing, crafting, scrapbooking, cooking, etc. There are lots of ideas. Identify your skills and go from there. Classes are good because if you get a group together you can charge little and still make a good profit.
* Teach What You Know. Consider giving classes in your home, or use an online site to educate others about something you're knowledgeable in or some skill you have. Great sites to consider include Skill Share, Pearl, and Udemy.
* Teach a Language. If you're bilingual, consider teaching others another language. Use iTalki to find clients.
* Tutor Others. If you want a job as a tutor, consider using Tutor to find clients.
FREELANCE
* Freelance Writing. If you are a decent writer, you can usually find work writing online. It is easy work and, while you don't make a lot, it is a way to bring in extra cash. You can sometimes make up to $500-$600 in a month with just an hour or two of writing here and there. Text Broker is a recommended site to start with; they pay weekly. There are others as well including: Crowd Source, Free Lancer, Need An Article, Elance, and Free Lance Writers.
* Sell articles. If you write good articles you can try selling them on sites like Constant-Content, Article Sale, or Helium.
* About is another good site that is always looking for freelance writers, especially knowledgeable experts to share their expertise with the world – they pay about $60 - $80 per article.
* Professional Journalism. Media Bistro is a site that lists available jobs for journalists and professionals in the media industry. Make sure to specify "work from home in the search box to get stay-at-home jobs. This website also offers online courses for writers in the areas of: speech writing, writing for children's television, how to use graphic arts programs and more.


* ProBlogger. This site provides resources and articles for bloggers. The job board details available jobs in the blogging arena in subjects such as cooking , real estate, fashion, entertainment, health and nutrition, wedding planning and more.
* Field Agent. For those who have an iPhone, this can be a good way to make a little cash. Fieldagent.net offers a free app that you can download to your iPhone and it will alert you to tasks that you can do for pay in your area. The jobs can range from doing a price check with a photo to completing a survey. Using your iPhone, you will upload the information you recover to the site. Pay ranges anywhere from $3-$12. Payment will come through Paypal. You may also consider Gigwalk , Check Points, or Easy Shift which are very similar in nature.
EARN CASH OR POINTS ONLINE
* Ebates. Earn cash back whenever you shop online! This really works and it's so simple and easy to use. Simply sign up and download the Ebates button onto your web browser . . . that's it! After that, whenever you go shopping online Ebates will automatically check if you can earn cash back on that particular site and will let you know what percentage you can get back for your shopping. All you have to do is click on the Ebates button to approve the savings and Ebates will automatically take care of the rest. No hassle. No headache. No scam! Sometimes it even finds online coupons to apply to your purchase for added savings. Anyone who does a lot of online shopping needs to know about Ebates!
* Hundy. This website offers anyone a chance to buy or sell a product or service for a price ranging anywhere from $5-$100. You can post anything that you are willing to do (write articles, be a wardrobe stylist, create artwork, design websites, etc.) Buyers are required to pay for the services in advance and payment is made through Paypal. Consider this an online marketplace where you can sell basically any unique skill or talent for a reasonable price! This may not work for everyone but it can be an interesting way to make cash online.
* Fiverr. This site is basically almost exactly like Hundy.net except that you can't sell anything for more than $5.00. Hence the name "Five-rr"!
* Complete Simple Tasks Online. There are companies or individual entrepreneurs who will pay to have simple online tasks done for them. Short Tasks and Cloud Crowd are good places to find such paying tasks. MicroWorkers is another site, but it more contains very small tasks for very small pay.
* Fill Out Surveys. Careful, there are a lot of scam sites out there that can waste your time, but when working with legitimate sites you can earn a fair amount of cash, points, or gift cards by filling out online surveys. Be careful, though, there can be a lot of scamming in this field, so make sure the company you use is legit. Some great sites to start with include Pinecone Research, My Survey, and Survey Spot. Other legitimate sites include: Global Test Market, Ipsos I-Say, Swagbucks, iPoll, IstaGC, 20/20 Research, ePoll, Survey Savvy, and Valued Opinions. Click Here for more information. For those who are serious about earning money this way, you may consider Survey Scout, but be warned that you have to pay to join this one.
* Paid Viewpoint. This is one of the best survey site I have ever seen, Unlike other sites which pays you only for completion of surveys, this unique site pays you per question answered! Yes you have heard it right! Per question answered. The minimum cashout is only $15 (payments are through PayPal). Like any survey site it's slow getting the
* Become a Search Engine Agent. Search engines hire companies to ensure that their search results are relevant. You can help make a little money helping companies like Leap Force at Home to do this.
* Get Rewarded for Things You Do Online. Bing Rewards, Inbox Dollars, Treasure Trooper, Cash Crate, Istant Gift Cards, Swagbucks, and My Points are sites where you can earn points, cash, or gift cards simply by using their site as you go about your normal online business. You can earn points for using their search engine, doing online shopping, filling out surveys, watching online movies, and so many other things. Many of these things you are already doing, so why not earn some points while you're at it?! Note: It would be good to open another email account to use for this so your normal inbox doesn't get filled up with ads and spam. Also, if you plan to use multiple sites, you should have a different email for each and clear your cookies between sites.
> > Helpful Link: How to Make Your First $30 at InboxDollars in Under a Hour
> > Helpful Link: How it is Possible to Earn $100 a Month with Swagbucks
> > Helpful Link: My Favorite Ways to Earn Using InstaGC
* Blog About Your Passions. You will have to draw an audience first before you can start making a profit, but once you have a number of people following your blog you can make money with ads, affiliate income, and Google AdSense. Start with WordPress and get hosted on Bluehost or Go Daddy.
* Do Online Research for People. Many people do not have the time or know-how to do effective online research. If you are good at online research you could make money by helping others in this area. Click Here for more information.
* Test Websites. Companies like User Testing pay to have various websites tested to see how user friendly different websites are.
* Give Online Product Reviews. Companies such as Snag Shout gives free or discounted items in return for posting an honest review about an item on Amazon.com
* Get Paid to Pin on Pinterest. If you have a following of at least 5,000 you can get paid to pin for some companies or sites. Loop88 is one good site to help you get started.
MAKE MONEY WITH YOUR WEBSITE OR BLOG SPACE
* Sell Digital Files. Using a service like eJunkie or Pulley can make it really easy to sell digital files from your own website or blog. Any digital file that can be downloaded can also be sold, so keep that in mind when you're posting things online.
* Post Ads. If you get a decent amount of traffic to your site or blog you can consider selling ads on it. You can very easily copy and paste code from Google AdSense or Carbon.
* Affiliate Marketing. If you can buy a product online, there should also be a way you can make a little money from promoting it, you basically just ad a link to your site and anytime someone uses your link to purchase the item you get a commission of it. Try to stick with items you've bought yourself or you know are really great (you don't want to give your website or blog a bad name by promoting junk), and don't overload your site with affiliates, keep it simple. If you're looking for a site to go through to get started, consider Amazon Associates, Commission Junction, or Pepperjam . Click Here for a listing of more affiliate sites.
* Build Websites for Small Businesses. If you're great at web designing you can work at designing websites for other people.
RENT OUT
* Rent Out Your Guest Room. Use a site like AirBNB to find a boarder. Or if you live near a college, see about advertising on campus for a college student who needs more affordable lodging.
* Rent out your car. If you have a vehicle to spare, why not rent it out for other people to use. Using a service like Get Around or Relay Rides can make this easy and stress free.
* Drive people around. Lyft and Uber are two online sites that you can use to connect with clients.
* Be a Tour Guide. Use a service such as Vayable to get started as a tour guide. Help people explore your city and earn a little cash on the side.
OTHER
* Fund a Loan. If you have some extra capital you can consider giving out a loan for profit. Lending Club or Prosper are two companies you can go through.
* Raise Money. If you're needing to raise money for something very specific (a missions trip, wedding, medical bills, community outreach project, etc) you could consider using a site like Go Fund Me.
* Check Your Credit Scores. Improving your credit scores can save you a lot of money on interest rates (mortgage, auto, etc). Consider opening an account with Credit Sesame or Credit Karma; they provide you with a credit score 100% free of charge (no credit cards, no free trials, no tricks, free for life).