Choosing Quality Over Quantity
Our family is really big on garage sale and thrift store shopping. We try very hard to be good stewards of our money and actually find a lot of enjoyment in finding good deals.
One thing I struggled with, however, is that it is very difficult to find good quality books, videos, and educational items for children when you're shopping second hand.
In visiting lots of garage sales and thrift stores I quickly realized that we could spend money buying lots of "random" stuff for our kids, or we could pay little bit more for fewer items that are more carefully selected.
When it comes to books, videos, and educational items for our kids, I would rather pay a little more for something that is of really good quality than to accumulate a bunch of materialistic stuff that may have come at a cheap price but is really just going to clutter our house without making much of a contribution to my children's future.
I don't want my children growing up with lots of random or shallow content. There are a lot of options out there with regards to children's literature, movies, and toys, but I would rather have fewer possessions that are of great quality than to have a large quantity of items that came at a "good deal".
I would rather pay a little more for a few really good materials than to buy lots of cheap products that lack quality.
I would also mention here that because we pay a little more for quality rather quantity we reap a many benefits . . .
1) Intentional Parenting
Because certain items were an investment, I find that I am much more intentional about reading to my kids, playing with them, and helping them to clean up after themselves. All this comes from the motivation that because certain items were an investment I want to teach my children to take care of what they have and to get the most out of the experience.
2) Less Clutter
Purchasing for the purpose of quality instead of quantity means you have fewer items in the house without reducing the amount of fun, discovery, and learning that takes place.
3) Early Learning
When I see my children interacting with other kids their own age I find myself marveling over the fact that they seem so much more mature and developed than what is typical for their age group. Of course, it is possible that we have been blessed with unusually bright kids, but I think a lot of it also has to do with the fact that their play time is geared towards learning. It's not that everything they do has to be educational, but because we've gone for quality over quantity it just turns out that much of what they do for fun is at the same time educational.
The following are some of my favorite products that I feel are really great quality and really contribute to the development and upbringing of my children.
It is possible to find several of these items used on Ebay or Amazon, which can save you money on that, but they are also items that I feel are good enough quality that I would be willing to pay full price for them.
This is a beautiful music album that has scripture based lullabies. I love to put this music on for my children and let them fall asleep listening to the promises of Scripture.
The best way to memorize Bible verses is to put them to song. This album is great! It has very beautiful, catching tunes that children love to sing, and the words are directly from the Bible the kids are memorizing Bible verses without even trying!
* The Bible App for Kids Storybook Bible
I searched long and hard to find a good Children's Bible, and after trying several different options (most of which were sad disappointments) I finally came across this gem!
This Children's Bible is very well done! The pages are full color with beautiful illustrations. The animals are especially intriguing for children and very expressive which adds a lot of fun to the storytelling.
The stories are detailed enough for the children to get a good idea of what is going on, but short enough that you can flip through the pages pretty quickly to keep the interest of a child who has a short attention span.
I was kind of disappointed that the story of Jonah is not in this book, but at the same time, I realize that they cannot fit all the stories into the book (it's already a pretty thick book as it is), and I can appreciate the fact that they selected stories and told them in such a way that would give children a good overview of what the Bible is about and particularly lead up to sharing the gospel message.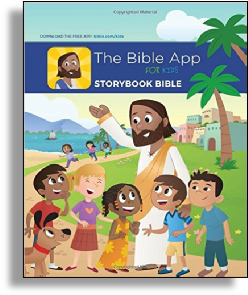 * The Complete Illustrated Children's Bible
The pictures in this book are absolutely amazing! And the stories themselves go more in-depth than the average children's Bible while still being easy to understand. It also includes a lot of the "minor" stories that most children's Bibles leave out. There is a lot more text in this book, though, than in the Bible App Storybook mentioned above, for this reason I would use the above children's Bible for very young children and move them into using this Bible as they get a little older.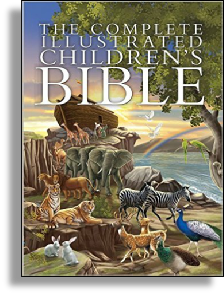 This is one of my favorite Bible movies for children. It is very simple, very calm, but also very well done. I especially love all the bright colors and the fun animals. The stories are short and concise, using very simple language that children can understand while still upholding the message and essence of the stories. It skips a lot of detail and really just covers the basics, but for a young child who is just learning the names of the different Bible characters and how they fit into the story as a whole, this is perfect (we can always go into more detail later).
* Eeboo Preschool Puzzle – Colors
* Eeboo Preschool Puzzle – Alphabet and Numbers
Since we live in a very technical age, I wanted my kids to have some exposure to electronic toys, but ones that would also be educational. I searched a long time to find "just the right one" and was very pleased with the purchase of this "tablet".
I especially love that it has a little keyboard on it for playing music, and really appreciate the fact that the many games and apps on this tablet are geared towards a wide variety of ages, which means it won't become obsolete anytime soon. It's a kind of toy that can "grow with the children" – as they advance to higher levels they will be able to make use of the more advanced games, but until then they can enjoy the easier games, and the basics of making music and learning to count, etc.